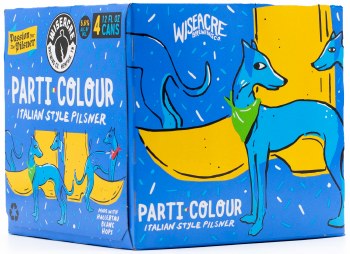 Wiseacre Parti Colour
4pk 12oz Can
$8.99 $8.09 $0.90
Parti-Colour Italian Pilsner


Par·ti-col·or, adjective: showing different colors or tints. Sounds like you're saying 'particular' with an accent.


We found inspiration in the beautiful and precocious dog breed known as the Italian Greyhound who happen to often be parti colored. It sounded like a fun name and we've been known to get on the Venga bus + parti a bit too. This beer is brewed with Weyermann's Italian Eraclean Malt, which is actually grown on the Adriatic coast of Italy, northeast of Venice. Dry hopped with Hallertau Blanc, which is a daughter to Cascade, it's a great blend of grassy German hops and fruity American hops with a wonderful vinous character. Crisp, clean, with a touch more bitterness than your German Pilsner. But what is an Italian Pilsner?


Fun Fact: Birifico Italiano is often considered the brewery who made the first Italian Pilsner over 20 years ago. This beer, named Tipopils literally means "sort of pilsner"--they claim that it was the first Pilsner of its kind to be dry hopped. In response to all of the abstract styles coming out of the craft beer industry, they created a beer festival in 2006 called Pils Pride, a beer festival celebrating craft Pilsners.
CPL: product