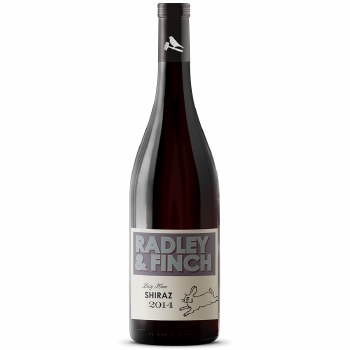 Radley & Finch Shiraz
750ml
$12.99 $9.97 $3.02
Harvest Notes:
These Shiraz grapes were harvested in the period ranging from the first week of
February to the first week of March. 2014 was a large crop of good quality due to a wet
winter in 2013 and handy rainfall in December 2013 ensuring an even ripening season.

Cellar & Blending Notes:
Stainless steel fermentation at 24-26 Celsius. Pressing the wines early to help retain
freshness and vibrancy. Partially matured on franch oak staves(20% of total volume).
Final blends include small precentages of Mourvedre and Cinsaut.

Tasting Notes:
This Shiraz finds itself on the lighter side of life. Fruits are primary focused on the red
spectrum and a perfectly blanced alcohol to add liveliness to the palate.

Aging & Drinking Suggestions:
This wine is ready for immediate enjoyment, but will be good for 2-3 years from bottling. A great partner to casual Friday evening fare, rare gourmet burgers and
home made Mexican favourites.
CPL: product